Good day, MFC~
Truth be told, this review was a long time coming since I've actually began writing it way back in April but many things happened and my work got extremely busy that I never got around to complete it until recently. I really love this figure and according to MFC, this is my 160th owned figure so what better way to commemorate this milestone than a review (・ω<)☆
I will be reviewing Orange Rouge's Wonderful Hobby Selection 1/8 scale figure of DRAMAtical Murder's Seragaki Aoba
GOTHIC VER
.~♡
INTRODUCTION
February 19th, 2017 – D-Day when DMMd fans were floored with this unexpected announcement in WF2017W
Undeniably this was all I needed from Winter Wonder Festival 2017, OR won the whole damn thing as I loved this illustration so, so much and to have it as a figure was truly a dream come true!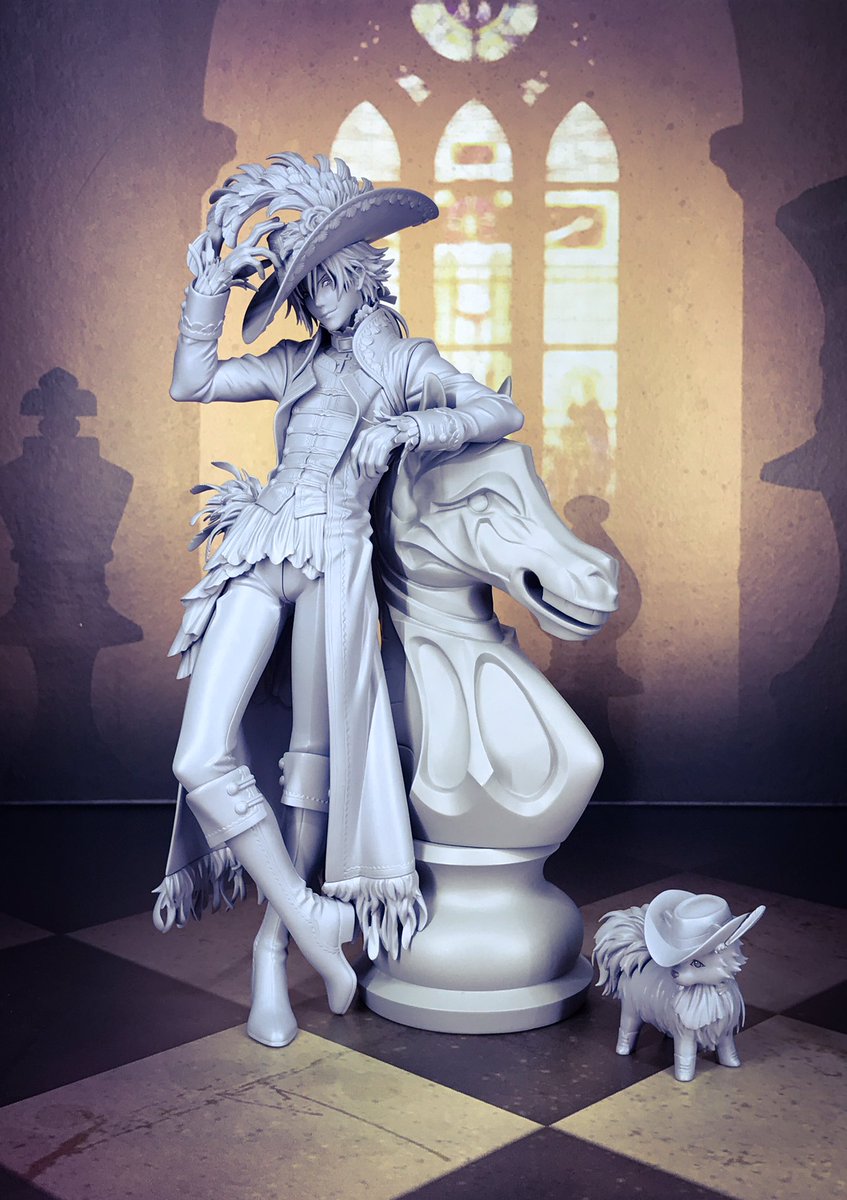 July 30th, 2017 – Aoba's unpainted prototype first seen in WF2017S
OR delivered by bringing Aoba's prototype to Summer Wonfes! He looks gorgeous already *drools*
November 10th, 2017 – Max Factory revealed Aoba's painted prototype during its 30th Anniversary.
In fact this was a commemorative figure for both DMMd and Max Factory as they celebrated their 5th Anniversary and 30th Anniversary respectively with the painted prototype making its maiden appearance during
MXF 30th Anniversary
event.
I am ready to pay for Aoba no matter the price but one day, my dad and I were guessing how much he'd cost just for fun and my dad said "Looks like it'll at least be 15,000 JPY." to which I replied "Nah, make that 18,000 JPY." Then we laughed at how ridiculous that would be. As luck would have it, Aoba was made to be one of the Wonderful Hobby Selection (WHS) line-ups and he ended up being 18,333 JPY…without the customary 8% tax…without GSC's standard shipping fee…and without the goddamn Customs tax.
Ironic, it was but pre-order, I shall. (✧∀✧)/
Pre-orders were accepted from December 21st, 2017 until March 22nd, 2018 and after all is said and done, this masterpiece costs me almost 24,200 JPY. Was it worth the price?
GSC certainly thinks so (`・ω・´)
Guess we're here to find out…
PACKAGING
Truthfully, I was not really all that impressed with the outer box...it was smaller than I thought and the design felt kinda lazy imho
The back of the box is nothing to shout about as it featured the obligatory shots of the figures' highlights, JAN code, materials, warning messages and yadda yadda.
Enough with the box, let's see Aoba in all his glory already!
POSE
This figure was based on honyalala-sensei's illustration for
Nitro+CHiRAL Special Kuji
whereby Aoba is wearing an elegant Gothic-inspired outfit just chillin' with Ren and a larger-than-life cheeky-looking knight chess piece.
I'm in love all over again. Aoba is incredibly stunning! I was left agape for a good thirty minutes or so simply in awe...
One of the beauties of figures is that we get to see from the angles that weren't shown in the original illustration. Just look at the smooth curves subtly hinting his lean body hidden underneath all those layers. The creases on his coat and boots are realistically done.
Aoba with his hair tied in ponytail with a ribbon gives me life~♡(∩´ω`∩)
BASE AND THE KNIGHT
There is nothing to write home about the underwhelming base like what's the fake suede velvet sorry excuse for a base even doing here? Attract dust? Because that's all it does as there aren't even any pegs to hold Aoba or Ren or the cheeky horse.
Depending on where you're from, this chess piece goes by several names (horse, rider etc.) but I'll go with the knight ;D I kinda like honyalala-sensei's reinterpretation of Staunton's imperial knight chess piece with the sideways glance and cheeky grin. It's weirdly addictive.
The larger-than-life knight had a black glossy sheen finish that gives it a really shiny look and although fingerprints aren't that visible, the knight is a little of a dust magnet.
I'm sexy and I know it~
The knight is what actually supports Aoba and he fits snugly around the peg.
As you can see, Aoba can stand perfectly well and doesn't wobble as long as you have him firmly held with the knight at the correct indent of his coat.
SCULPT AND PAINT
REN
Now let's take a look at Ren dressed to the nines! Ren is soooooo adorable~~!! (((o(*´>∀<)o)))*♡ His hat even had ears and look how cute he looks with his tongue sticking out~~
The sculpt of Ren's fluffy fur is quite alright but there are some seamlines visible on his tail along with excesses here and there, more prominently on Ren's right side of the tail.
God, Ren's little boots! They are so cute it's killing me!! I really like how the bottom of the hat is painted with pearlescent colours in contrast with the white on top. The feather's gradient is nicely done as well and I just love that cute little sculpted paw accessory!
AOBA



*drum rolls*
And now, the moment you've all been waiting for!
The one and only Seragaki Aoba~~!!
Please excuse the brightness, I was inspecting him when the sun suddenly came on real strong. Welp I did notice a few tiny paint slip-ups on his hat and a really puny black dot on his coat sleeve thanks to the glaring light. I love his vibrant blue hair just pops amidst the rest of the colours.
The greatest part of this figure is how Aoba's expressions seem to change depending on which angle you're looking from. When he's peeking out from his hat, he looks a little mischievous and condescending which creates this irresistible gap with his regal attire.
The colour scheme of bluish-white, baby blue, pearlescent bluish-purple (what's it called again, periwinkle?) and gold is simply amazing. In place of a cravat, a thin belt buckle with a gold cross (almost like a choker) is paired with his semi-translucent shirt.
The vest. God, the vest is gorgeous. Definitely one of the highlights of this figure, the vest is sculpted with such exceptional details and the pearl paintwork of baby blue with the gold are so lovely I almost cried. I applaud them for their amazing skills to colour these intricate details seamlessly without much paint bleeding.
His lips look so alluring from this angle~~ *swoons*
Aoba's resplendent wide brim hat is another unequivocal highlight with the elaborate Gainsborough hat adorned with a blue rose, ribbons and lavishly curled feathers painted in pearlescent periwinkle.
From a lower angle, you can appreciate the translucency and colours of the material used to replicate his sheer fabric in the original illustration. I like that little attention to detail of the crease on his high waist pants as he stands resting his weight on one leg.
It's hard to get a picture of it but they even sculpted and painted the boots zipper at the back!
His frock coat and boots were painted and shaded nicely with a tinge of blue with accurate creases at his boots. The folds of the coat draping gracefully were perfectly captured as well. My only gripe is how the feathers at the end of his coat were not sculpted to be resting against his heels evenly enough resulting in a weird gap between them.
Did I mention how Aoba's hair tied in ponytail with a ribbon gives me life? While I like how his blue hair gradates towards a lighter blue, I wished OR could've sculpted the tips finer and made more spaces between his ponytail as they look a little clumpy.
That million-dollar smirk! Ah, I am so in love with how the corners of his lips curve so charmingly~ Simply captivating! (*˘︶˘*).。.:*♡☆
In addition to the amazing sculpture works, the gloss and matte texture of paint were used to reproduce the look of different materials from his gloves, coat, boots and feathers. This figure has a lot of intricate details which makes it a pleasure to enjoy from various angles especially the semi-translucent parts. How it catches the light makes the colours dramatically amazing!
My personal favourite angle.
I couldn't resist
not
putting Aoba's
Gothic Plush
beside him, sorry not sorry.
These two have a lot in common; both being 1/8 scale with similar black knights but maybe because
Kotobukiya's Ciel
is sitting that Aoba looks larger than Ciel.
How I wish Aoba's base could be a fraction as beautiful as
Aniplex's Ciel
or similar to the original illustration's chess-like flooring instead of that fake suede velvet dust-magnet base.
They say third time's a charm but to me, all three of them are winners. The size difference is really noticeable as both
Native
and
Max Factory
's Aoba are a scale larger. It is regrettable that Gothic Aoba is not 1/7 but beggars can't be choosers and I'm just grateful that we're still getting anything DMMd related after seven long years.
Will Noiz ever get a scale figure? *cries*
OVERALL
All in all, I'd say that they managed to remain very much faithful to the original illustration and even brought out the elegance that can only be appreciated in three-dimensional form with its exquisite sculpture and paintwork.
HE.IS.TOO.BEAUTIFUL.FOR.WORDS.
SUMMARY
I do appreciate the popularity of DMMd however I think that a figure from other Nitro+CHiRAL series are long overdue especially sweet pool. I need a Youji figure like I need air!! I'm praying with all my heart they'll make the rest of the CHiRAL boys in their gothic outfits too please~~!!
Akira and Youji would look utterly smashing together.
Thank you very much for taking the time to read my humble review and I hope you enjoyed reading it as much as I enjoyed writing it.
Now if you'll excuse me, I'll be fangirling over all the amazing announcements of
Toraware no Palm
as they celebrate their third anniversary today along with the release of the
Switch game
. It's already been three years since I met the man of my dreams but I love him even more with each passing day... God, I wanna marry Haruto~ ♡♡*⋆⸜(*ˊᗜˋ*)⸝⋆*♡♡
Till next time, MFC. Take care :D
SkyBlue
30 Aug 2019